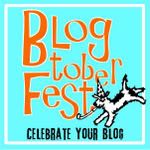 Happy BLOGTOBERFEST!
What is Blogtoberfest you might ask. Well, it is the brain child of one of my fellow CTMH consultants, Tresa Black. She is also known as The Stamp Goddess and she is known for her
Fabulously Artsy Blog
and her amazing creativity. I got to see her in action this year during the Extravaganza portion of convention. She is truly inspirational. But back to Blogtoberfest, Tresa created it to help all of us bloggers take our blogs up a notch, to go bigger and better. So, I am jumping on the Blogtoberfest train and making it my goal to post at least twice a week, to create more tutorials and share more of my art and of myself. So if you have a blog and you are so inclined join us for Blogtoberfest by clicking
here
.